About Abel Ferrara at Lee Strasberg Film Institute - Part 4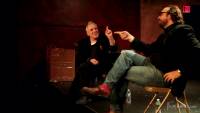 Abel Ferrara continues his discussion with the Lee Strasberg Film Institute students.

In the 4th part of the interview, Ferrara talks about the differences between art films and Hollywood movies and how one can be an independent filmmaker these days. He lists the filmmakers who inspired him to make movies, such as Hitchcock, Godard, Fellini, etc. Lastly, Ferrara says a few words about his film, 'Go-Go Tales' and ends with some commentary on horror movies.